1902 Indian Head Penny Coin Value (Rare Errors, Red, Brown & Cameo)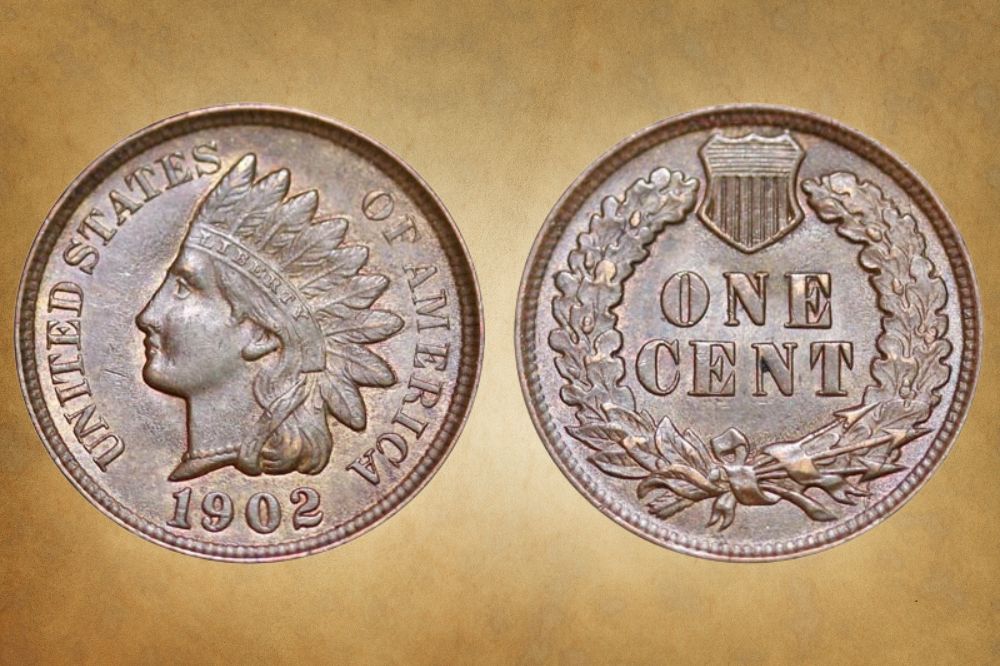 The penny minted in 1902 has a striking image: Lady Liberty in the headdress of a Native American. It's an attractive coin – but could it be valuable too? That's what we're here to find out!
We're going to look at everything there is to know about the 1902 Indian head penny value. We'll talk you through its history, and what lies behind that distinctive design. And we'll find out what you need to look for to determine whether your 1902 penny is rare and valuable.
Ready? Let's get started!
1902 Indian Head Penny Value Chart

Mint Mark and Color
XF45
MS60
MS65
 MS66
1902 (P) Indian Head Penny, Brown
$26
$50
$150
$500
1902 (P) Indian Head Penny, Red and Brown
n/a
$55
$300
$550
1902 (P) Indian Head Penny, Red
n/a
$65
$675
$2,100
PR60
PR63
PR65
PR67
1903 (P) Proof Indian Head Penny, Brown
n/a
$225
$825
$2,650
1903 (P) Proof Indian Head Penny, Red and Brown
$150
$325
$825
$3,850
1903 (P) Proof Indian Head Penny, Red
n/a
$325
$1,150
$10,000
1903 (P) Proof Indian Head Penny, Cameo
n/a
n/a
$2,750
$26,000
1902 Indian Head Penny Value Guides
1902 (P) Brown Indian Half Penny Value
Over 87 million Indian head pennies came out of the coin presses at the Philadelphia Mint facility in 1902. So it might surprise you to know that even brown coins can still be worth considerably more than their face value.
A brown 1902 Indian head penny in extremely fine condition, graded XF45, is worth around $20. (That figure comes from the PCGS, one of the pre-eminent independent coin grading agencies.)
A coin graded XF45 has been circulated, but has survived with only a few signs of wear. That might be tiny cracks on the surface, or minor rubbing on the highest parts of the devices.
If you've got a coin that's never been circulated, it will be worth more. Uncirculated coins are known as "mint state", abbreviated to "MS", and graded from 60 to 70.
A brown 1902 Indian head penny graded MS60 is valued at about $50 by the PCGS. That rises to $150 at MS65 (the lowest grade known as "gem" quality) and $500 at MS66.
The auction record for a brown 1902 penny was set way back in 2001. The coin was graded MS60, but sold for well over $4,000.
1902 (P) Red and Brown Indian Head Penny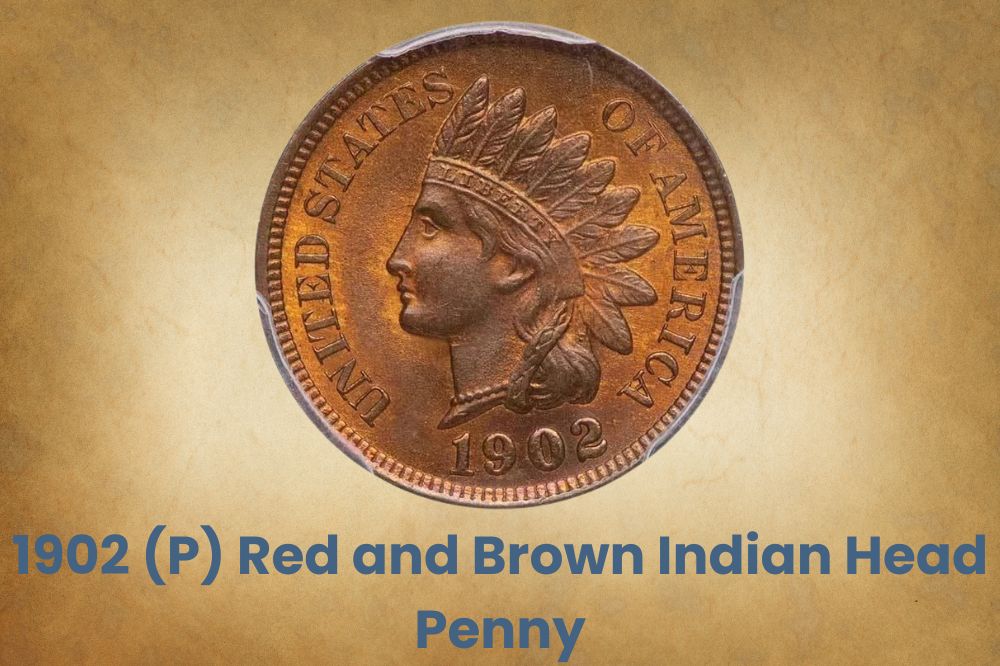 Red and brown Indian head pennies are generally more valuable than their brown counterparts. The premium at MS60 is only $5. But at MS65, a red and brown coin is valued at $300, twice as much as a brown example.
The finest quality example graded by the PCGS was assessed as MS66+. It's the only one of its kind, but it's valued at a surprisingly reasonable $1,000.
1902 (P) Red Indian Head Penny Value
Red pennies are the cream of the crop for collectors. Graded examples of 1902 Indian head pennies start at MS60 at the PCGS, where they're valued at $60 apiece.
The value rises to $140 at MS63, and $675 at MS65. A single extra grading point triples the value – at MS66, a red penny is worth around $2,100.
That sounds like a lot of money – and it is. But there are finer quality 1902 Indian head pennies to be found. And these are worth serious cash.
The PCGS places a value of $16,000 on an MS67 coin, rising to $42,500 for an MS67+ example. And two coins have been assessed at MS68. Their current value? Around $125,000 each.
1902 (P) Proof Indian Head Penny Value
The Philadelphia Mint didn't just strike regular pennies for circulation. It also produced proof coins, made using specially prepared dies and hand-selected planchets. They were designed for collectors, and they're the best of the best.
Values start at $160 for a brown proof penny graded PR62. The finest brown proofs to have been graded are PR67, and they're valued at $2,650 a pop.
Red and brown examples range from $160 (PR61) to $5,500 (PR67+). And for red coins, the range is $325 (PR63) to $40,000 apiece for three coins graded PR68.
Values for 1902 Indian head pennies designated cameos start at $1,350 for a coin graded PR64. And the finest examples known to exist are graded PR67 and valued at $26,000.
1902 Indian Head Penny Errors
1902 (P) Indian Head Penny Die Gouge
As you'd expect from the name, die gouge coins are those struck from a die that had an error. It happens when something scratches the die and removes part of its surface. The result is a raised area corresponding to the gouge on the surface of the coins struck from it.
There are a number of these errors amongst 1902 pennies. To check for one, look at Lady Liberty's eye. The die gouge is easy to spot – it appears as a thick line running on a diagonal across the bottom of the eye and ending at the tip of Liberty's eyebrow.
The value of a coin with this error will depend on its quality. But even a poor quality brown coin (graded AG3 – the "AG" stands for "about good") is worth around $10. And the finest known examples, red coins graded MS63, are valued at about $750.
1902 (P) Indian Head Penny, Broadstruck
A broadstruck coin is one that wasn't held securely in the collar when it was struck. As a result, metal stretched out beyond where the edge should have been. And some coins will also have the design off-center.
One broadstruck 1902 Indian head penny graded MS62 was presented for auction recently. In this case, the design was still nicely centered on the coin. But it nevertheless sold for $345.
1902 (P) Indian Head Penny, Double Struck, Second Strike off Center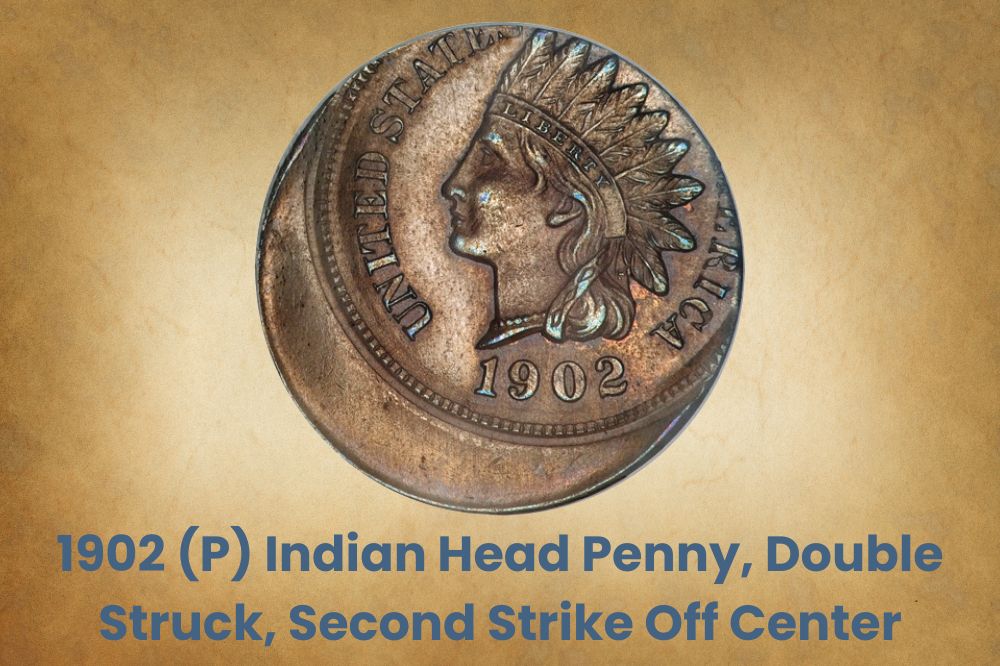 Sometimes a coin isn't properly ejected from the press after it's been struck. And when that happens it can be struck a second time. That's what happened with one 1902 Indian head penny. And to make it even more interesting, the second strike was 75 per cent off-center.
It was authenticated but not graded by the NGC, the Numismatic Guaranty Company. It had environmental damage that included black spotting on the obverse. But it nevertheless sold for $650.
Take a look at this YouTube video from Couch Collectibles for more examples of 1902 error pennies.
History of the 1902 Indian Head Penny
At first glance, you'd be forgiven for thinking the penny from 1902 shows a Native American brave. Indeed, the distinctive design on the obverse is what gives it its nickname of the "Indian head penny".
Look closer, though, and you'll see that the feathered headdress is worn not by a young Native American man, but a Caucasian woman. That woman is Lady Liberty, who had been appearing on US coins since 1793.
The Indian head pennies first went into production in 1859 and replaced the cent known as the Flying Eagle. Those had proven difficult to strike, and a new design was approved at the earliest opportunity.
In 1864, the copper content of pennies changed from 88 to 95 per cent. The rest of the coin was made from tin and zinc, rather than nickel. That same recipe was used for all Indian Head pennies struck after that date.
The change meant that the new pennies weighed 3.11 grams. That compared to the 4.7 grams weight of those struck prior to 1864.
The design also changed over time. The Indian head pennies struck in 1859 had a wreath of laurel leaves on the reverse. That changed the following year to a wreath of oak leaves surmounted by a shield.
Production of cents was cut dramatically after the Civil War, before increasing again as the economy grew in the early 1900s. At the same time, the gaming industry was growing, fueling the demand for cents to be used in penny arcades.
Until 1908, however, legislation forbade any mint facility except Philadelphia from striking cents. All 1902 Indian Head pennies, therefore, were struck in Philly.
The Indian Head penny was replaced in 1909. A new design was approved to mark 100 years since the birth of Abraham Lincoln
How to Identify the 1902 Indian Head Penny?
The Obverse of the 1902 Indian Head Penny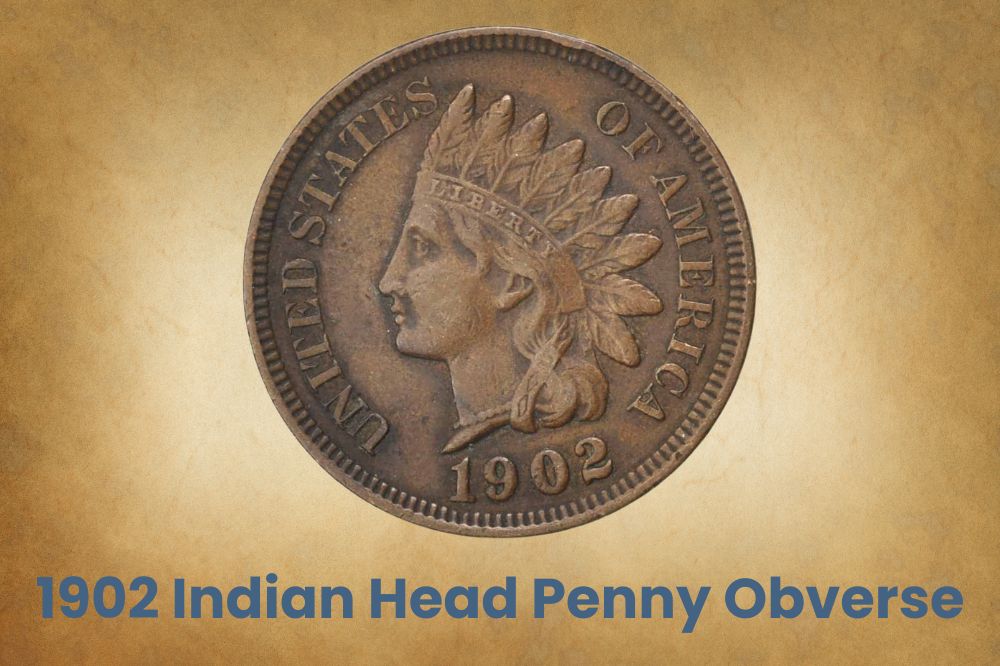 The obverse, or "heads" side, of the 1902 penny depicts a bust of Lady Liberty. But instead of her usual spikey crown, she wears the feathered headdress of a Native American warrior.
Placing an item of such significance on the head of a legendary woman did not pass without controversy. Even the Mint Director at the time, James Snowden, called the pairing an "absurd congruity".
The design was the work of James Barton Longacre, Chief Engraver at the Philadelphia Mint facility. And despite his reservations, it was Snowden who selected it for the penny from a number of different options.
One major advantage was that it was in low relief. That meant that it was easier to strike than the Flying Eagle penny which had caused such problems in the past.
Whatever the rights and wrongs of the cultural iconography, the public loved the coin. Today it ranks amongst the most popular of any American coin series.
The bust of Lady Liberty is shown in profile and facing to the left. The band of her headdress has the word "Liberty", while "United States of America" curves along the edge of the coin. The year appears at the bottom, while the whole design has a beaded border.
The Reverse of the 1902 Indian Head Penny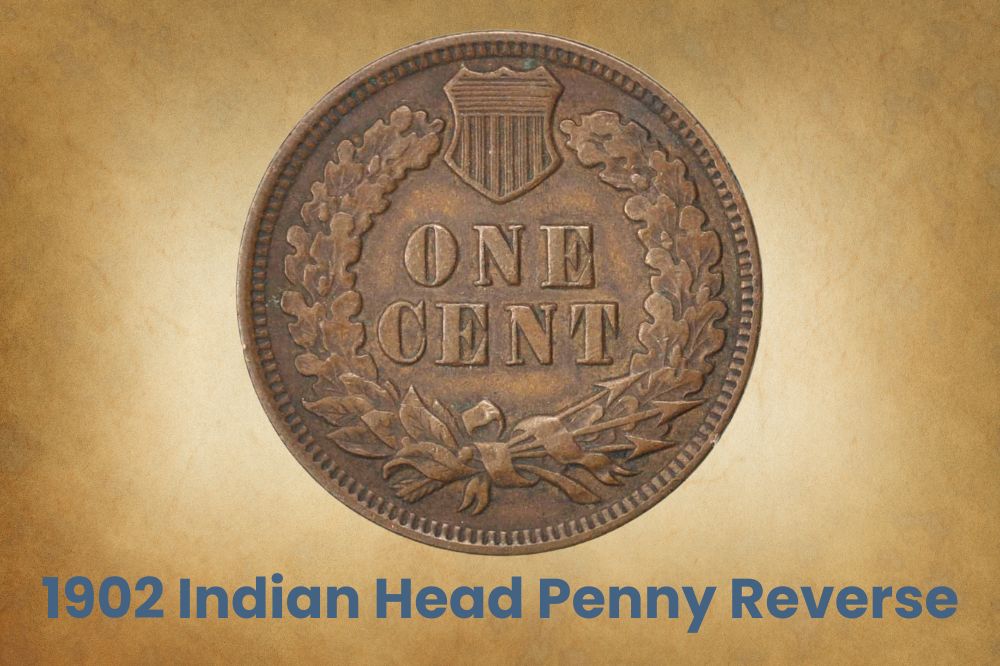 The wreath of leaves which appears on the reverse was one of four different designs prepared for the Indian Head penny.
The first design to appear was the laurel wreath, but a year later it was replaced with oak leaves and a shield. The original choice was probably made on grounds of practicality. The laurel leaves were the design with the flattest profile, making them easier to strike clearly.
No official reason was ever given for the change. Some have speculated that oak leaves, symbolic of strength and independence, were felt to better reflect the American spirit.
Whatever the reason, the new design continued to be used for many years, and it also appears on the reverse of the 1902 penny. It's accompanied by the text "One cent", inscribed over two lines in the center of the wreath.
Other Features of the 1902 Indian Head Penny
1902 Indian head pennies are 19 millimeters in diameter. They have a plain edge and weigh 3.11 grams, nearly a quarter less than the pennies minted before 1864.
Because they're made almost entirely of copper, they vary in color. When copper is new, it has a strong red tone. But as time goes by and it's exposed to oxygen in the air and oils on people's hands, it turns brown.
Copper coins are color graded into three categories: red, red and brown, and brown. Red coins are generally the most desirable, while brown coins are the least.
For a coin to be graded red, it must have a red tone over at least 95 per cent of its surface area, counting both sides. A coin graded brown will have a brown tone over the same proportion of its surface area. And red and brown coins are all those in between.
You'll often see the color grading of 1902 Indian head pennies in their catalog descriptions. Red coins are abbreviated "RD", red and brown "RB", and brown "BN".
To find out more about color grading copper coins, check out this YouTube video from Couch Coin Clips. It looks mainly at Wheat pennies, but the same principles apply to the colors of Indian Head pennies.
Is a 1902 Indian Head penny rare?
1902 Indian head pennies aren't particularly rare – although any coin will be worth much more than its face value. But uncirculated coins and those with an interesting error are rare. And their value is significantly higher.