1925 Buffalo Nickel Coin Value (Rare Errors, "D", "S" & No Mint Marks)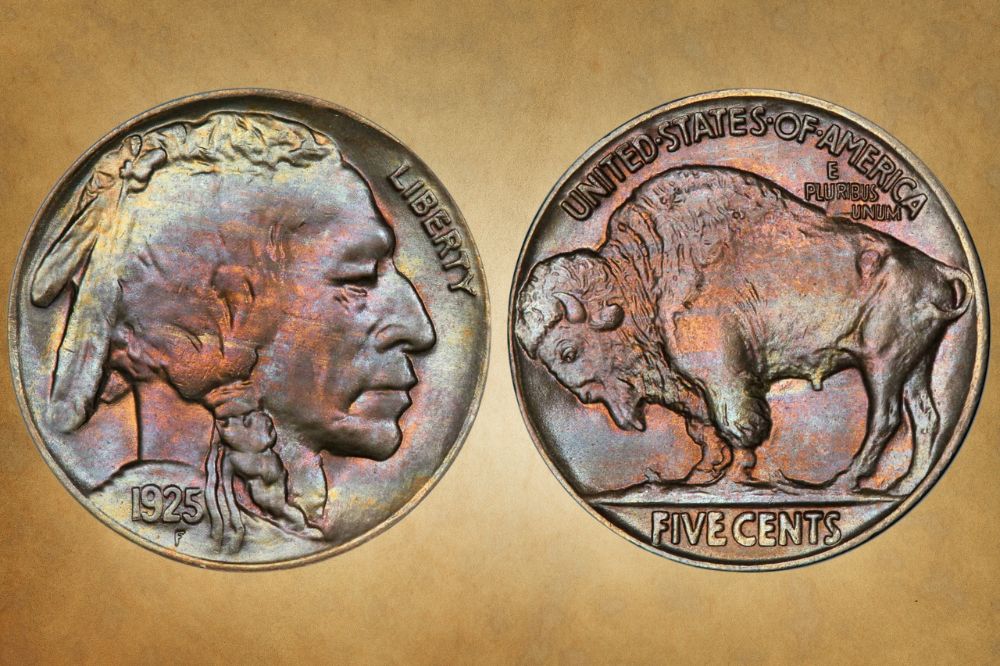 The short-lived Indian Head nickels (Buffalo nickels) appeared in 1913, and the US Mint produced these coins until 1938, when Jefferson nickels replaced them. Despite numerous problems with minting, this series with an attractive design is popular among collectors nowadays.
The 1925 Buffalo nickel value can significantly vary, depending on the mint where they were produced, the mintage, and each coin's condition. Interestingly, pieces from Philadelphia are considered the most well-produced in the set but are worth the least because of the high mintage.
1925 Buffalo Nickel value

Condition
1925 No Mint mark nickel
1925 D nickel
1925 S nickel
Good
$3.30
$11
$5.70
Very good
$3.89
$23
$10
Fine
$4.52
$45
$20
Very fine
$9.13
$107
$102
Extra fine
$17
$205
$204
AU
$36
$301
$285
MS 60
$48
$454
$533
MS 63
$112
$847
$2,058
Value Guides of the 1925 Buffalo Nickel
The total mintage of 1925 Buffalo nickels was 46,271,100, but the mint in Philadelphia released by far the highest number of coins. The lowest mintage was in Denver, while not a single mint released proof coins this year.
1925 No Mint Mark nickel Value
Thanks to the mintage of 35,565,100 pieces, Buffalo nickels produced in 1925 in Philadelphia are the most affordable in the set. Their price range is from $1.50 to $40 for coins that spent years in circulation, while preserved ones cost approximately $40 to $660.
1925 Buffalo nickel value

Condition
1925 No Mint mark nickel
1925 D nickel
1925 S nickel
Good
$1.50 to $2.40
$7.25 to $13.68
$2.75 to $5.76
Very good
$2.50 to $3.24
$15.50 to $26.40
$6.75 to $12
Fine
$3 to $4.44
$27.50 to $44.40
$15 to $32.40
Very fine
$5 to $10.80
$55 to $114
$57 to $126
Extra fine
$15 to $21.60
$130 to $198
$150 to $210
AU
$23 to $40.80
$260 to $432
$240 to $600
MS 60
$38 to $45.60
$400 to $480
$575 to $690
MS 61
$48 to $57.60
$425 to $510
$740 to $888
MS 62
$60 to $72
$450 to $540
$900 to $1,080
MS 63
$100 to $110
$720 to $864
$1,275 to $1,530
MS 64
$150 to $180
$960 to $1,152
$2,000 to $2,400
MS 65
$280 to $336
$2,500 to $3,000
$8,400 to $12,500
MS 66
$550 to $660
$7,000 to $8,400
$30,000 to $40,000
MS 67
$4,200 to $4,300
/
/
Only nickels with an MS 67 rating are pricey, and you should pay $4,200 to $4,300 for such a specimen. Surprisingly, one beautiful nickel produced in this mint was sold for $32,200 at an auction organized in August 2006. 
1925 D nickel Value
The Denver mint reached the lowest mintage in 1925 after releasing 4,450,000 Buffalo nickels. Their average prices are $7 to $430 for circulated pieces, while coins in the mint state are collectible and can be valuable.
You should set aside $400 to $1,150 per piece, while the most quality specimens can be worth $2,500 to $8,400.
One owner was probably pleasantly surprised when his 1925 D MS 66 Buffalo nickel reached an auction record of $57,500 in August 2007. It is still the most expensive nickel struck in Denver in 1925.
1925 S nickel Value
The Buffalo nickel mintage was 6,256,000 coins from regular strikes in San Francisco in 1925. Nowadays, you can buy one for $3 to $600, depending on each piece's quality.
You should be prepared that uncirculated coins can be pricey. For instance, most pieces cost $600 to $12,500, but those in the highest grades are unbelievably valuable.
Collectors with high budgets are prepared to buy nickels with an MS 66 rating for $30,000 to $40,000. The most expensive piece sold at an auction was the 1925 S MS 66 Buffalo nickel. Its price was $87,400.
1925 Buffalo Nickel Errors
Slight imperfections found on the Buffalo nickels can make a significant difference in their prices. Even though coins minted in 1925 are not considered a key date, and there are no known famous errors, you can earn some money on pieces with minor flaws.
For instance, you could come across a few error coins on the open market, like:
The 1925 S over S Buffalo nickel was offered for approximately $40
The 1925 Clipped planchet Buffalo nickel with a price of $40
The 1925 S DDO Buffalo nickel with additional lamination was sold for $30
The 1925 S Two-feather Buffalo nickel cost approximately $30
The 1925 D Die crack Buffalo nickel that was worth almost $25
The 1925 S Buffalo nickels with a lamination error with average prices of $10 to $40
The 1925 D over S Buffalo nickel reached a cost of $10
There are also two available coins on the market which owners ask for high prices:
The 1925 Buffalo nickel with a 15% off-center error, estimated to be $1,400
The scarce 1925 S Buffalo nickel with an E PLURIBUS UNUM beard error, estimated to be $289
Despite relatively low prices asked for 1925 Buffalo nickel error coins that you can see on eBay, some pieces are pretty costly.
For instance, one collector bought a specimen minted in San Francisco with a two-feather error for $4,406 in 2014. A similar error coin from Denver was sold in April 2019 for $1,500. The one with the re-punched S mint mark was paid $2,350 in 2015.
History of the 1925 Buffalo Nickel
Nickels are well-known five-cent coins nowadays, but it wasn't always like that. Believe it or not, they were three-cent coins before 1865. Even their name is wrong since the US Mint made them of 75% copper, and only a third of the alloy is nickel.
The reason for their production was complex. You should understand that all American coins before the first nickels were made of precious metals and had intrinsic value. Everyone could melt them in case of a financial crisis.
On the eve of the Civil War, frightened people began hoarding silver and gold money, and the market ran out of cash. Without enough precious metals, the US Mint couldn't mint enough coinage to meet the demand.
Suddenly, the whole economy was based on paper currency, particularly in the South. It was unsustainable because everyday transactions and buying supplies became nearly impossible.
It was to be expected that no one would collect coins made of such ordinary composition as cupronickel alloy, making nickels widely available after the war. Throughout its history, the US Mint produced four nickel types, besides a controversial coin from 1913:
Low-quality Shield nickel, minted from 1866 to 1883, is considered the ugliest American coin
V nickel (Liberty Head nickel), minted from 1883 to 1913
The 1913 Liberty Head nickel was minted without the US Mint's authorization, and there are only five pieces worldwide
Buffalo nickel (Indian Head nickel), minted from 1913 to 1938
Jefferson nickel, minted from 1938 to present
Nickels became popular in the 20th century primarily because of their convenience. They fit jukeboxes, coin-operated machines, vending machines, and slot machines. Once they went into the mainstream and were used for attending a nickel theater (nickelodeon), they became irreplaceable in everyday life. 
1925 Buffalo Nickel

Location
Year
Minted
Philadelphia
1925 No Mint mark nickel
35,565,100
San Francisco
1925 S nickel
6,256,000
Denver
1925 D nickel
4,450,000
Total
/
46,271,100
The Buffalo nickel series was short-lived because of a problematic design that was complicated to mint. However, it is highly collectible nowadays, and the limited number and affordable prices included these coins in the group of the most favorite among collectors.
Nickels produced in 1925 are considered one of the worst-minting dates. Dies were of low quality, resulting in poorly struck coins with a weak appearance. The primary reason was the limited budget the US Mint had at its disposal that year.
Nowadays, producing five-cent coins costs almost eight cents, making these pieces unprofitable. In a world where the rat race is the ultimate discipline, the fate of the beloved nickels is highly questionable. So, it is about time to start collecting them!
How to Identify the 1925 Buffalo Nickel?
Since the Buffalo nickels were minted from 1913 to 1938, those from 1925 are considered the set from the middle period. Depending on the mint where they were produced, you can recognize three coin types, but all were from regular strikes. The US Mint didn't strike proofs this particular year.
The obverse of the 1925 Buffalo nickel
Most Americans like Buffalo nickels despite their imperfect appearance. The problem was that they were incredibly challenging to strike, despite their seemingly simple design.
The obverse shows a sizable portrait of an Indian tribal chief. Interestingly, the designer based the profile's look on several Native Americans, not only one particular person.
On the chief's shoulder is placed the minting year, 1925, while the word LIBERTY is struck between his forehead and the right coin rim. Those are the only inscriptions on this side of the coin.
The reverse of the 1925 Buffalo nickel
The 1925 Buffalo nickel has an American bison on the reverse, which is why the coin got its name. The animal stands on some kind of pile above the FIVE CENTS denomination and the mint mark placed below.
The top coin part includes UNITED • STATES • OF • AMERICA along the rim and a tiny E * PLURIBUS * UNUM motto placed in three lines above the bison's back.
1925 Buffalo nickel

Face value
Five cents ($0.05)
Shape
Round
Compound
Copper-nickel coin with three times more copper than nickel
Coin thickness
1.95 millimeters (0.0768 inches)
Coin diameter
21.2 millimeters (0.835 inches)
Coin weight
5 grams (0.176 ounces)
Edge
Plain
Other features of the 1925 Buffalo nickel
All Buffalo nickels, including those minted in 1925, were modest, five-cent round-shaped coins made of copper-nickel alloy.
Their standard measurements included a thickness of 1.95 millimeters (0.0768 inches) and a diameter of 21.2 millimeters (0.835 inches). The common weight for these coins is 5 grams (0.176 ounces).
What makes a 1925 nickel valuable?
The 1925 Buffalo nickels in high grades are considered scarce. The rarest pieces are those with an MS 66 rating that can reach $30,000 to $40,000 at auctions.
Which 1925 nickels are worth a lot?
1925 S MS 66 Buffalo nickel sold in August 2009 at Bowers & Merena for $87,400
1925 D MS 66 Buffalo nickel sold in August 2007 • Heritage Auctions for $57,500
1925 MS 67 Buffalo nickel sold in August 2006 • Bowers & Merena for $32,200
1925 S MS 64 two feathers Buffalo nickel sold in April 2014 • Heritage Auctions for $4,406
1925 S/S AU 55 RPM Buffalo nickel sold in August 2015 • Heritage Auctions for $2,350
1925 D XF 40 Two Feathers Buffalo nickel sold in April 2019 • Heritage Auctions for $1,500
How much are 1925 No Mint Mark nickels worth?
The 1925 Buffalo nickels minted in Philadelphia are the least valuable in the set, thanks to the highest mintage. You can find coins from circulation for $1.50 to $40, but those from higher grades can bring you $40 to $660.
Be careful if you find one of these coins, and check it carefully. Those graded MS 67 can reach a fantastic $4,200 to $4,300 at auctions, while one of these coins was purchased for $32,200 in 2006.