1925 Stone Mountain Half Dollar Coin Value (Rare Errors)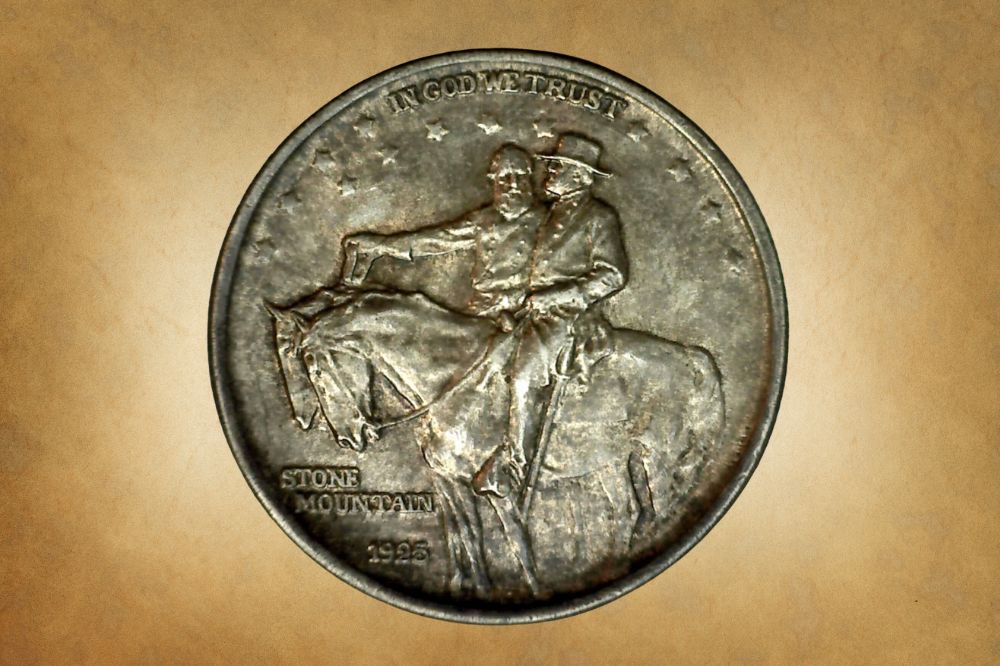 The Stone Mountain Memorial began in 1916 and wasn't completed until 1972. And while it's controversial today, it had the support of President Calvin Coolidge, so in 1924, he passed a bill authorizing a commemorative coin that would raise funds to sculpt the monument. Let's take a closer look at the history and asses the true 1925 Stone Mountain Half Dollar Value.
1925 Stone Mountain Half Dollar Value

Mint Mark
Very Fine
Extremely Fine
About Uncirculated
Low Mint State
Mid Mint State
High Mint State
1925 Stone Mountain Half Dollar Value
$32
$45
$55
$73
$175
$15,000
1925 Stone Mountain Half Dollar Value Guide
1925 Stone Mountain Half Dollars were only coined at the Philadelphia Mint, so none of them had mint marks. They distributed 1,314,709 in total. Many had counterstamps to identify the state they were intended for, so let's look at the various subcategories. For the coins with limited price histories, we'll summarise the available records in a table at the end.
1925 Stone Mountain Half Dollar Value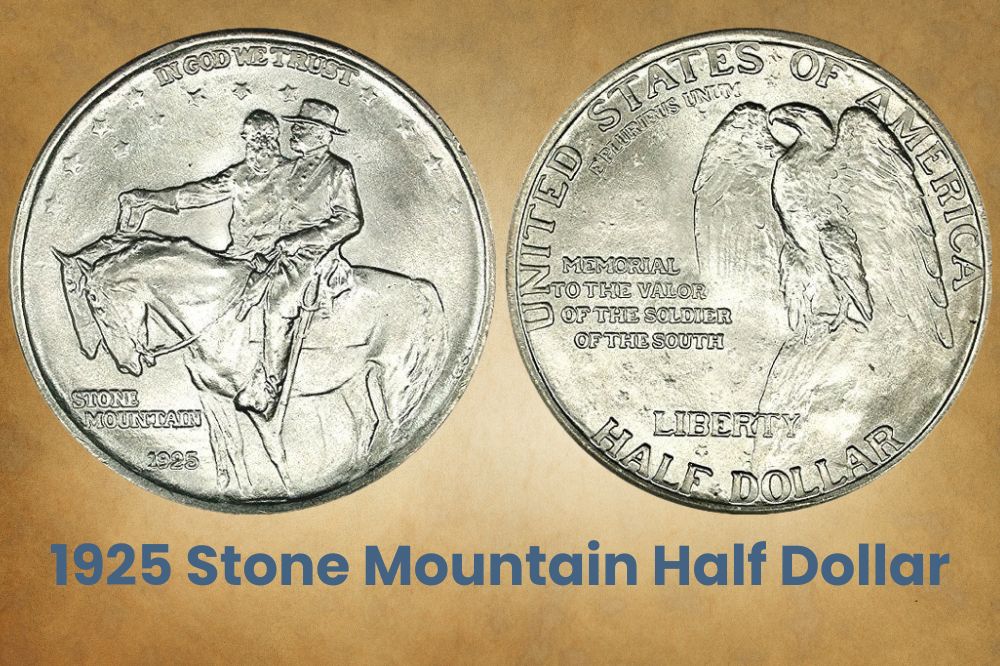 In January 2005, an MS 65 Stone Mountain Half Dollar sold for $37,375. But in January 2023, it only sold for $230. In December 2022, an MS 67+ graded by PCGS sold for just $2,850. As for NGC coins, an MS 68 sold for $5,280 in August 2020. The highest known grade is MS 68+. PCGS has only graded three and estimates their 2023 value as $32,500.
1925 Stone Mountain Half Dollar ALA Value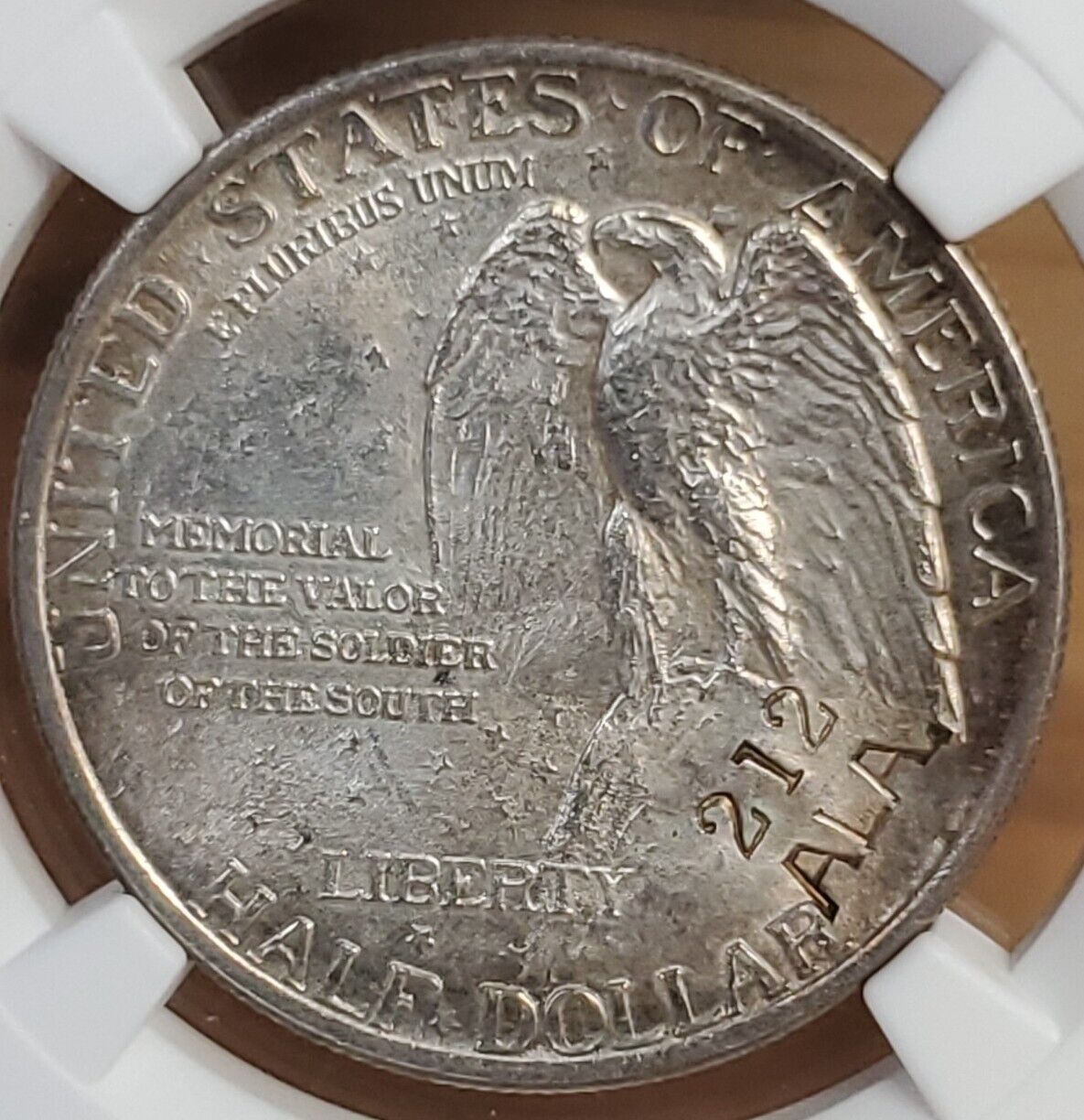 As we said earlier, states were given sales quotas, and they counterstamped a select number of coins, hoping they'd fetch better prices at auction. In November 2020, an ALA-stamped coin graded at MS 63 sold for $3,840. In June 2022, a far weaker VG 10 coin sold for $660. So far, PCGS has only graded one MS 63 coin and estimates its current 2023 value at $5,000.
1925 Stone Mountain Half Dollar FLA Value
Most counterstamped coins auctioned for $10 to $110. Back in 1925, one lucky Florida-stamped coin sold for $1,500. In March 2006, an AU 55 sold for $1,150, and in January 2019, a very low G 4 coin sold for $1,020. The highest known grade is MS 63. PCGS has only seen one, with no recorded sales. The closest is an AU 58 that was $690 in January 2010.
Additional 1925 Stone Mountain Half Dollar Values
In the table below, we'll list a few more varieties of the 1925 Stone Mountain Half Dollar, including their price history where available. Population refers to the number of coins that PCGS has graded so far. Many are still in private hands, so their estimated value is unknown. G.L. and S.L. stand for Gold Lavalier and Silver Lavalier, awarded to top county salesladies.
Additional 1925 Stone Mountain Half Dollar Value Chart

Counterstamp

Location

Grade

Sale Date

Record Price

Population

A
Unknown
MS 61
August 2019
$365
1
ALA. S.L.
Alabama
XF Details
April 2021
$1,680
1
FLA. G.L.
Florida
MS 60
August 2001
$690
1
GA
Georgia
AU 50
March 2006
$1,093
11
KY
Kentucky
AU 55
March 2006
$2,645
2
MISS
Mississippi
AU 55
March 2006
$1,898
9
MISS. G.L
Mississippi
AU 50
October 2021
$9,300
1
N. CAR
North Carolina
XF 40
August 2022
$2,700
16
OKLA
Oklahoma
MS 62
November 2020
$2,160
10
OKLA. G.L.
Oklahoma
AU 50
January 2004
$920
1
S.C.
South Carolina
AU 50
March 2006
$1,093
7
TEX
Texas
AU 50
May 2003
$575
1
TEX./G.L.
Texas
Genuine
August 2016
$646
1
1925 Stone Mountain Half Dollar Errors
Coin errors can affect the value of a coin, raising it by hundreds or even thousands of dollars. They occur at various stages of the minting process, which begins with an 8" model done in rubber, epoxy, and plaster. A mint reducing machine will shrink it to the right size and this process takes several days. The result is a steel master hub, which makes steel master dies.
The master dies make working hubs, which make working dies. These dies eventually strike planchets to produce coins. Each phase involves multiple strikes in the coin press, and if the metal moves between strikes, you can get off-center, doubling, tripling, or quadrupling errors. You might also find coins struck on planchets intended for another denomination.
1925 Stone Mountain Half Dollar DDO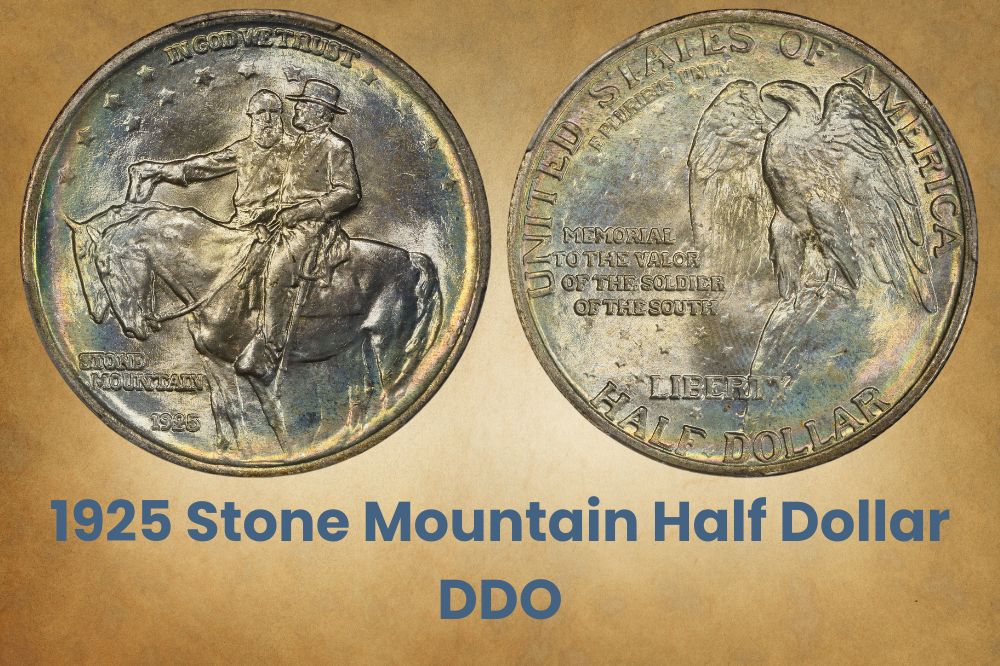 DDO means doubled-die obverse. It's when the die shifts between strikes by the obverse hub. The second strike lands on a slightly different spot which causes doubling, and this flaw is copied onto every coin the doubled die mints. You may end up with thousands of identical error coins, so it becomes a variety. It's $150 in MS 63, $275 in MS 65, and $1,250 in MS 67.
History of the 1925 Stone Mountain Half Dollar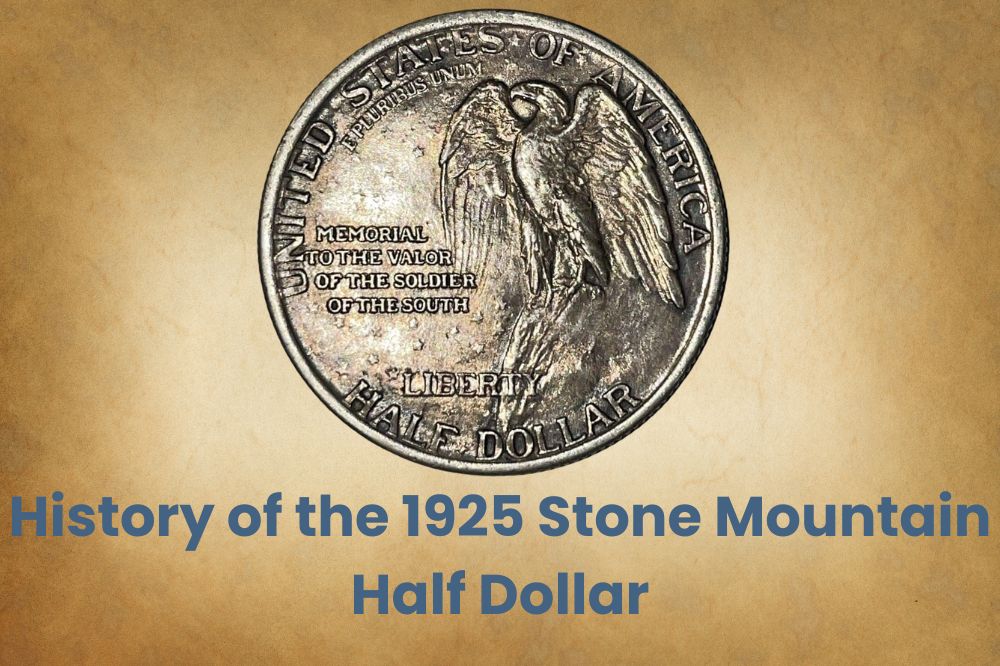 The world has changed in recent years. Things that were once considered 'normal' are now recognized as immoral, socially unacceptable, and sometimes downright evil. But lots of people still cling to these beliefs because of their faith, history, or personal philosophy, so many of these mores are considered controversial. They might even be labeled as leftists.
In this context, it can be tough to discuss events and artifacts from the past without liberal bias. And one area where this comes up is with the 1925 Stone Mountain Half Dollar. Some have called it the most racist coin ever made while others see it as a national monument. It was minted in 1925 to raise money for the Stone Mountain Memorial near Atlanta, Georgia.
The current memorial shows three confederate leaders, and the site, Stone Mountain, had close ties to the Ku Klux Klan. The first sculptor and mountain's original owners were active Klan members, and the people depicted in the monument were key figures on the wrong side of the Civil War. Sadly, many people still hold those beliefs today. But let's focus on the coin.
Gutzon Borglum and the Stone Mountain Project
It was designed by Gutzon Borglum, a Yankee Klan member, and he was originally hired to do the monument itself. His given name was John Gutzon de la mothe Borglum, and he was born to a polygamous family of Danish Mormon converts in Idaho. He was a gifted artist and started as a painter before switching to sculpture. He even met and was influenced by Rodin.
His work had previously won at least one gold medal, and he was commercially successful, with people buying his work. His training included the San Francisco Art Academy, and he attended two prestigious art schools in Paris – École des Beaux-Arts and Académie Julian. By 1901, he was focused on sculpture, but had a temperamental reputation within the art world.
Borglum was hired by C. Helen Plane, a leading member of the United Daughters of the Confederacy (UDC). But the same year he designed the coin, he was fired from the Stone Mountain Project amid internal strife. He later worked on Mount Rushmore though. His coin featured Robert E. Lee and Stonewall Jackson, generals who ended up on the sculpture.
It was similar to the Children's Founders Roll medal, which had eight edges and a hole at the top where you could loop a ribbon or leather strap. White kids aged 18 or under would get the medal as a keepsake if they contributed towards the cost of the monument. The medal had 3 riders in front and marching soldiers in the background, but the posture was different.
For reference, the third person in the carving is Jefferson Davis, President of the Confederate States from 1861 to 1865. Apart from raising money for SMMA (Stone Mountain Memorial Association), the coin was meant to honor Warren Gamaliel Harding, the 29th President of the United States, who had recently died. He isn't mentioned or depicted on the coin though.
Objections to the Stone Mountain Half Dollar
Earlier versions of the coin did allude to him. But they were removed after repeated revisions since the ruse was to appease Northerners who were against the idea of honoring the losing side. So President Calvin Coolidge ensured all actual references to Harding were taken out. This caused a lot of push-back, but Coolidge pulled rank and personally approved the coin.
The GAR (Grand Army of the Republic), a group of Union vets, lobbied against the coin too. But Borglum was smart enough to leave President Davis off the coin, knowing the other two generals were well respected, even in the North. He was sneaky about the 13 stars too. More on that later. Also, he was difficult to work with and rubbed many art peers the wrong way.
So when he presented his coin to the Commission on Fine Arts, they rejected it multiple times, and at one point, he started to ignore their suggestions until they threatened to fire him. In the end, he made 9 models in total before they accepted the coin. Then the SMMA loudly let him go! Embarrassed, his supporters (and many others) stopped buying the coin.
They even lost the support of the UDC, who had initiated the project. The whole affair got loud and distastefully public, with an arrest warrant for destroying his models, an escape attempt, mutual insults, and accusations of embezzlement on all sides. The work he had done so far was blasted off the mountain. Many sculptors refused requests to replace him.
Selling the 1925 Stone Mountain Half Dollar
Eventually, Augustus H. Lukeman took over. Publicists were hired to sell the coin at $1, later raised to $2. It was nicknamed the 'Harvest Campaign', with some officials receiving salaries, bonuses, and commissions to promote the coin. Southern states were given sales quotas, and some coins were counterstamped to increase their auction bids, but sales remained dismal.
Many were handed out as gifts by banks and companies. Still, things worked out for Borglum in the end. He began the project with a grand plan for a confederate monument on the side of Stone Mountain and designed a coin and a medal to raise funds. The coin did cost him this gig, but with his talent intact, he was soon hired in South Dakota to craft Mount Rushmore.
Consequently, when the SMMA tried to rehire him in the 1930s, he already had a job! Work on the monument stopped in 1928 and didn't resume until 1964. Stone Mountain Park was officially opened on April 14th, 1965, the 100th Anniversary of Lincoln's assassination. Today, multiple campaigns are ongoing to destroy the carving, but so far, none have been successful.
How to Identify the 1925 Stone Mountain Half Dollar?
Coins are struck on blank discs called planchets. The heads side is called the obverse and the tails side is called the reverse. The words are called legends or mottos while the images are called devices and the background is called the field. The raised rims or borders of the coin are known as collars, and the thin sides are the edges. Let's discuss this 1925 Half Dollar.
The Obverse of the 1925 Stone Mountain Half Dollar
The obverse (heads side) of the 1925 Stone Mountain Half Dollar features General Robert E. Lee and General Thomas Jonathan "Stonewall" Jackson on horseback. In God We Trust is above their heads. Borglum claimed this was a testament to the strong faith of the South.
The top of the coin had 13 stars which – he said – could either represent the 13 confederate states (for southerners) or the 13 original states (for northerners). He left that deliberately ambiguous! Stone Mountain and the date, are on the lower left, with GB near the horse tails.
The Reverse of the 1925 Stone Mountain Half Dollar
The reverse (tails side) of the 1925 Stone Mountain Half Dollar has an eagle on the rock, ready to fly. It's perched on the right of the coin. On the upper left is the motto E Pluribus Unum. The legend Memorial to the Valor of the Soldier of the South sits on the mid-left.
The legend Liberty is below it, above the denomination. Faded stars are scattered around the coin, mostly on the left field, but also above the eagle's head and under its wings. The legends have stars between them – United States of America at the top and Half Dollar at the bottom.
Other Features of the 1925 Stone Mountain Half Dollar
The 1925 Stone Mountain Half Dollar was 90% silver and 10% copper. Like other half dollars of the time, it weighed 12.5g, was 30.61mm in diameter, and was 2.15mm thick with a reeded edge. It was meant to be a commemorative coin that would be auctioned for fundraising. But it didn't sell well, and many were released into circulation as face value business strike coins.
How Many 1925 Stone Mountain Half Dollars Were Minted?
Officially, 1,314,709 were distributed by the Philadelphia Mint. But there's a discrepancy concerning the actual mintage figures since up to 5M were authorized. Some sources say they made all 5M and melted half of them. Others quote 2.31M, plus 4,709 for assaying.